When:
October 15, 2015 @ 7:00 pm – 9:00 pm
2015-10-15T19:00:00-07:00
2015-10-15T21:00:00-07:00
Where:
Photographic Arts Building
1780 Village Place
San Diego, CA 92101
USA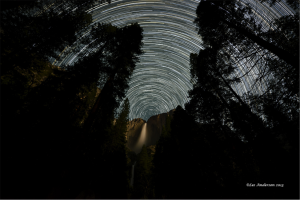 So half of your life is spent in the dark of night, but have you really explored the possibilities of night sky photography? You travel half way around the world to iconic places in the northern and southern hemisphere, you click away until sunset and then call it quits for the day. Maybe you get up to catch the sunrise. Think again, maybe you should lose a little sleep and capture some of the most outstanding images of your life. Come explore Earth and sky when the Moon and stars come out and photography techniques you can use between sunset and sunrise.
The workshop will explore the art of night sky photography. You most likely own all the equipment you need, and the software to make multi-image star trails is fun and free. Specific applications and techniques for planning optimal images of Earth objects like mountains, buildings and trees combined with Sun, Moon and stars will be reviewed. A handout will also be provided that covers some of the handy techniques and a pre-shoot checklist to help get you the image you want and keep Murphy at bay. Please note this is not a "hands-on" workshop, but information on planning, tools, and techniques.